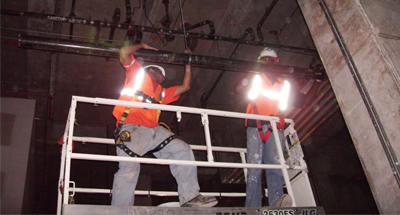 INSTALLATION
Emerald Fire prides itself in its contracting abilities, technical skills and commitment to your construction schedules. Whether your project is a large new installation, or a smaller remodel scope, Emerald has the personnel, the equipment, and the processes to ensure that each job is a success.
CAPABILITIES:
Automatic sprinkler systems, including wet systems, dry systems, pre-action systems, deluge systems, and foam systems
Standpipe systems
Specialty fire protection systems
FM200 systems
Fire alarm systems to release clean agent systems, pre-action systems, or deluge systems
Inspection, testing, and maintenance
Retrofit of existing buildings
Commercial and Residential Automatic Fire Sprinkler Systems
BENEFITS:
Experience with a variety of project types
Design/build capabilities
Integrated delivery/detailing coordination
We are diligent in our efforts to stay ahead of each project. We do this by taking the initiative in communicating from our office to the customer's office to determine schedule needs, etc., so we're ready when you are.
Emerald's crews consist of licensed and certified union foremen and fitters who are given every resource possible to assure our customer's fire sprinkler needs are met on time including:
Regular certification training and Union Apprenticeship training programs ensure our crews are always trained in the latest technologies available.
Service crews are provided with company vehicles which contain the necessary tools and equipment to enable proper installation of fire sprinkler systems.
Our crews are required to hold

"Workplace Safety"

meetings on site and required to complete the safety meeting and training report to ensure job safety.
Emerald adheres to a drug-free workplace policy.